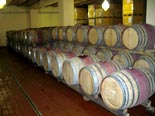 Until the year 2000 the major part of grapes produced by Castello di Lucignano were supplied to a local cooperative. The new owners, however, had bought the estate to create great wines for the connoisseur of today. Therefore they started immediately after the purchase to plant new clones of Sangiovese vines, promising greater structure and more pronounced varietal fruit notes of the wines.

In 2001 a state-of-art wine-cellar was inaugurated, which is the pride of the estate. Besides offering a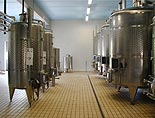 generous tasting room, the cellar uses latest technological installations, including computer-controlled fermentation vats, which not only regulate optimum temperatures, but also guarantee a maximum extraction of aroma and colour components of the grape skins by regularly emersing the skins in the must.
For optimal maturation and ageing oak barrels (15 and 20 hl) and French barriques were installed, which are being used depending on the vintage and the kind of wine.
< back
| History | Cellar Tours and Tastings | Philosophy | Wine-cellar |
I The Vinejards | Photo gallery | How to find us | Contact us |