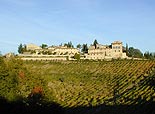 The vineyards of Castello di Lucignano comprise 40 acres, most of which are dedicated to the Tuscan grape-variety Sangiovese. Only 5 acres produce Cabernet Sauvignon and Merlot grapes.
The altitude of the vineyards is 330m. The densitiy of the vines is 4.000 – 5.000 plants / hectare. The winery uses the Guyot-System for trimming. Since 1996 the estate continues to plant new clones of Sangiovese to exploit the great potential of this grape.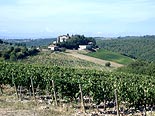 Since the surrounding mountains protect the hill of Lucignano very well, its vineyards are rarely affected by hail storms or other extreme weather conditions. This microclimate has given us excellent opportunities to create outstanding wines.
The soil composition is varied. With a predominance of lime, there are also parcels of clay and sand, which give the wine its own, incomparable character.
| History | Cellar Tours and Tastings | Philosophy | Wine-cellar |
I The Vinejards | Photo gallery | How to find us | Contact us |